My mother had a passion for reading.  I think I caught that from her.  There are hundreds of books in my parent's house and I don't know what to do with them.  Their house is in New York and I live in California.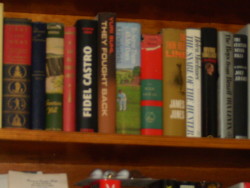 These are some of the suggestions I received:
Keep them.
Leave them in front of the house.  Someone will enjoy them.
Throw them out.
Sell your books to a used bookstore.
Sell your books on Amazon or eBay.
Give them away to:
The Library
Prisons
Hospitals
Nursing Homes
Send them to other countries so that English speaking expats have access books in English
I like the idea of giving the books away, so I started contacting the local institutions listed above.  Here are the responses:
The Library – we don't take donations right now, but thank you very much.
Prisons – I haven't contacted them yet.
Hospitals – we don't take donations right now, but thank you very much.
Nursing Homes – we don't take donations right now, but thank you very much.
Send them to other countries  – I need to find out if there is a cost effective way to ship books abroad
Then I went to the top  of the list:
My home in California is already over-saturated with books and I might have to move out just to make more room for any more books.  Also, the cost of shipping all those books is enormous.
I have left a few boxes of books in by the curb in front of the house a couple of years ago, but they sat there for days and were then taken away with the garbage bags next to the boxes of books.
I called some bookstores in the area.  No one was buying used books.
My partner and I are already selling my books on Amazon and looked into the Fulfillment by Amazon program.  It seemed reasonable to us and we could possibly make some money.  The books wouldn't be thrown away  and someone else will enjoy them.  Our experience is that the hardback books do sell well online.  There were many "old" books.  Most don't even have a UPC code.
In the end, I have decided to sell them on this site.  I will also be collecting and selling loved books from other collections.  I will also be posting books on this site.  As soon as I upgrade this site for e-commerce, I will send out a new post.  You'll be able to find the books for sale at Books from my Mother's Collection and More